INTRODUCTION
This guide will show you how to send emails from another mailbox that you may have set up on your Outlook.
SYSTEM REQUIREMENTS
Any version of Outlook
WHAT YOU MAY NEED & OTHER CONSIDERATIONS
N/A
Open a new email within Outlook (Ctrl + N is the keyboard shortcut for this).

Within the new email tab, go to the "Options" tab and then select "From".

You should then be given a new field to confirm who the email should be sent from.

Click on the new "From" option and either select the email address or click on "Other E-mail Address" to choose an alternative one.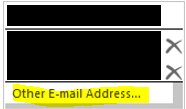 Please note that in order to send emails from another mailbox, you will either need "Send As" permissions or have the email address set up as a secondary mailbox. This is not the same as having full access permissions. Unfortunately, end users cannot do this themselves but we can make this change for you. Please do send a ticket in to support@it-logik.com to get the request going and we will be happy to assist.
Also, any emails you send, regardless of the email address it's from, will go to your sent items (unless you have it set up as a secondary mailbox). If you would like them to go to the respective email addresses, it would be best to add the mailbox as a secondary email on your Outlook. If you are unsure on how to do this, please click here to see our guide.