INTRODUCTION
This guide will show you how to use our HES portal as a user.
SYSTEM REQUIREMENTS
N/A
WHAT YOU MAY NEED & OTHER CONSIDERATIONS
• An internet connection
This guide will show you how to:
– Manage your blacklist/whitelist
– Check your quarantined emails
– Set up quarantine reports
To access the spam filter, you will need to navigate to hes01.it-logik.com in a web browser. For steps on how to log in and change your password, please click here.
Managing Your Blacklist/Whitelist
To manage your personal whitelist/blacklist, click on the "Filter Rules" tab and then select either "User Blacklist" or "User Whitelist".

This will let you add emails to either always allow or always block. It will also let you make any changes to any previous emails or domains you've added.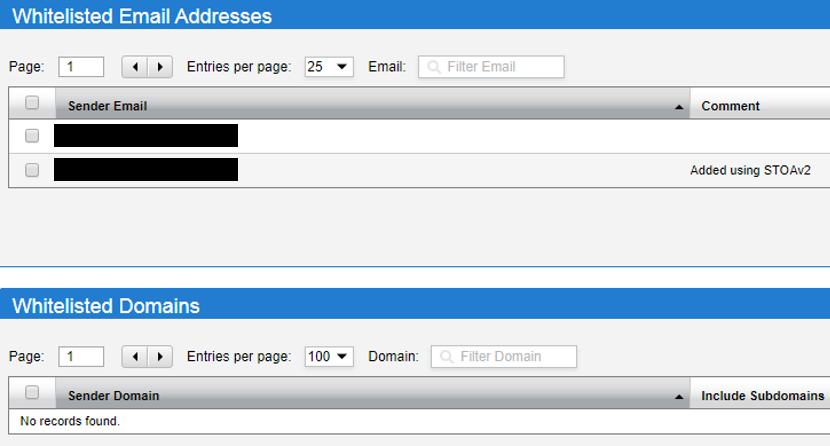 To edit or delete an entry, click on the little checkbox next to them and select either "Edit" or "Delete" on the right hand side.

Additionally, you can add any new entries you would like.
Please be aware that this is your personal blacklist and whitelist. These changes will only effect the email address you are signed in as.
Also, domains are the bits after the "@". Adding a domain to your blacklist or whitelist will either allow all emails from the domain or block them all. This can be useful if you receive a lot of spam from one company or if you want to ensure you always receive emails from a particular company.
By default, HES will load your quarantine when you log in. If you need to navigate to it, however, you can simply click on the "Quarantine" tab.

This will show you all the emails that have been automatically blocked by our system.

If you find anything you want to release from the quarantine, simply click on the checkbox next to it (you can select more than one at a time) and hit the "Release" button. You can also add the senders to your whitelist by clicking on "Whitelist". Alternatively, if you don't want those emails at all, you can click "Delete".
Set Up Quarantine Reports
You can set up reports on emails that have been quarantined by our system so you don't have to keep checking your spam filter. Please note, however, these are live notifications and will only notify you on the day after (subject to how regularly you set the report for).
To do this, click on the "Settings" tab and then "Quarantine Report Settings".
Now select the settings you'd like for your quarantine report and then hit "Save" in the bottom right.

If you have any issues or questions regarding HES, do not hesitate to contact us on 020 3740 1060 or email in at support@it-logik.com.