This guide will show you how to delete a Skype user.
To delete a user, go to the list of your Skype users. When there, click on the arrow next to "Disable" and you should see "Delete".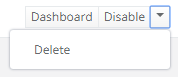 You may encounter the below error when deleting a Skype user.

If this happens, you may have to wait 24 hours before trying again. It should then work after the 24 hours have passed. If not, please contact us on 020 3740 1060 or email in to support@it-logik.com.
If you would like to see what else you can do with CCP, please click here to go back to the main guide.