This guide will show you how to delete a mailbox.
If you no longer need a mailbox, you can delete it if no-one else requires access to it. We would advise that you backup all the emails within it before you do this. If you would like assistance with this, please do let us know and we can do it for you. Otherwise, it's pretty simple. All you have to do is go to the list of users' mailboxes and click on the arrow next to "Disable".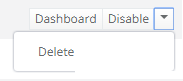 This will give you the option to delete. If you click on it, you will have to confirm and then it will be deleted. We cannot recover a mailbox once it is deleted. For this reason, please ensure you have all you need from the mailbox prior to doing this.
If you would like to see what else you can do with CCP, please click here to go back to the main guide.