INTRODUCTION
If you are unsure of your PC/laptop's number or name, this guide will show you how to obtain it.
SYSTEM REQUIREMENTS
N/A
WHAT YOU MAY NEED & OTHER CONSIDERATIONS
N/A
The easiest way to do it is the following: you can navigate to the little arrow next to the date and time (bottom right) and scroll over the IT Logik logo to see your PC number (you may need to click it if nothing pops up).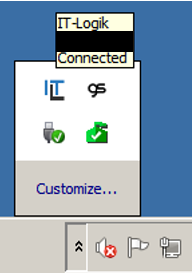 Click the Start menu
Type in cmd and run the program
Type in "hostname" and press Enter

The green bar is where your PC number will be displayed.
Please provide whatever is displayed and confirm when it is okay to connect if required.