INTRODUCTION
This guide will explain how to download and configure the SpamTitan plugin for Outlook.
SYSTEM REQUIREMENTS
N/A
WHAT YOU MAY NEED & OTHER CONSIDERATIONS
• Outlook, ideally 2013+ • Your HES details
Close Outlook and go to https://docs.titanhq.com/en/26694-downloading-and-installing-spamtitan-outlook-add-in.html and download the SpamTitan Addin MSI at the top.

When the MSI has been downloaded, run it to begin the installation process. Click through the installer until you get to the server details. When you get here, enter as below.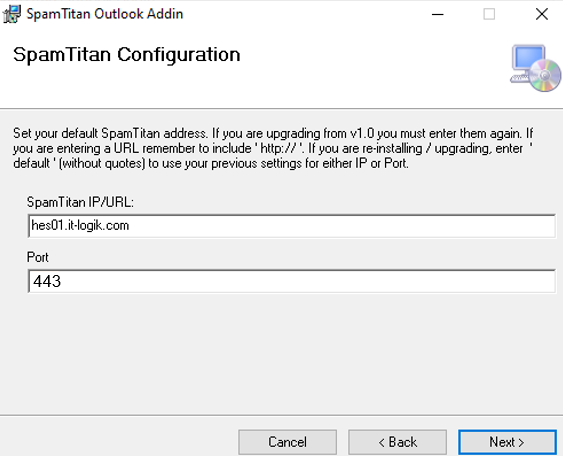 Open Outlook and you should see an "Add-ins" tab at the top. If you click into this, you will see the SpamTitan plug-in.

If you don't see this, please do the below:
Click on "File" within Outlook and then go to "Options". Then go to "Add-ins", ensure it's on "Manage: COM Add-ins" and hit "Go…". Then find the SpamTitan Addin and click on the checkbox next to it to enable it.
Click on "Options" to enter your account details.
Once it's connected, you can whitelist and blacklist emails from Outlook, as well as get a quarantine report.
If you right click on an email and go to the "SpamTitan" option at the bottom, this will show you what you can do with an email. You can also do these by going to the "Add-ins" tab and selecting the option you want.